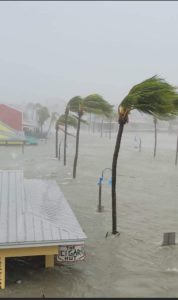 Hurricane Ian and shipping…What's next?
September 29, 2022
We are all watching Hurricane Ian as it impacts Florida. Are you wondering how is this major natural disaster going to affect shipping? Tim and Arron provide some thoughts.
"During catastrophic storms or disasters, the freight market can turn upside down. Capacity can be affected which can see delays in service and price increases due to supply and demand" said Aaron.
In times of natural disasters, what can be done to minimize the impact on your supply chain? Both Tim and Arron agree the most important things are safety, communication, and flexibility.
"It is important for your broker to talk to the shipper, receiver, and dispatcher to ensure the product can be loaded/unloaded safely and resources like fuel are available in the area", said Tim.
Other questions to ask, Have operating times changed? Are there new restrictions? Is there a safe passage for the driver into and out of an area? Customers should be made aware to expect possible change, disruptions, and a temporary spike in the cost of freight. Since there is constant change after a disaster it is also very important to remain flexible. Everyone must be up to date on the current situation and heed directions from officials.
Just like the hurricane this too shall pass, and we will get through this temporary market shift together!
Would you like RCT to help with shipments to and from Florida? Call 330.441.7310 or email rates@rctlogistics.com
How can you help those affected by Hurricane Ian?
RCT has family and friends in Southwest Florida. We have selected 2 charitiable organizations that are providing impactful support. Please consider making a donation.

The Community Foundation: #WeAreFMB campaign. They were formed to help restaurant employees during COVID. This is a group of local people that will turn around 100% of the money you donate to the beach community. DONATE HERE

Florida Disaster Fund: The state's official private relief fund was "established to assist Florida's communities as they respond to and recover during times of emergency or disaster." DONATE HERE or text "DISASTER" to 20222 to make a $10 donation

THANK YOU!
Sign up for the latest news from RCT
Opt in- to stay up to-to-date with RCT New and the industry directly to your inbox.