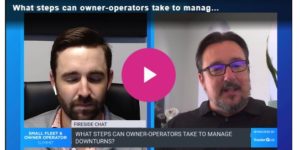 Being a Freight Broker is a delicate balancing act.
June 20, 2022
How do you provide the best customer service and pricing possible, while maintaining and nurturing your carrier relationships in an ever-changing economy while facing unprecedented supply-chain challenges?
The answer: Relationships
In particular, a Broker must build go-to relationships.
A Broker must build trust with a Customer using honest communication and fair pricing. A Broker must work in their client's best interest. It is known that challenges are often out of a Broker's control but that a Broker will do their best to provide first-rate service.

A Broker must instill faith in a Carrier/Owner Operator. A Broker must display they understand the pressure and cost a Carrier faces. However, the Carrier must be willing to consistently provide the level of service the Broker requires. Carriers also appreciate honest and open communication.
The benefits of becoming a go-to Carrier/Owner Operator in order to manage the during a downturn were recently discussed during FreightWaves Small Fleet & Owner Operator Summit
At RCT Logistics we choose to build a team around strong relationships with both Carriers and Customers. This is a core value of our business. Our honest and open communication is the foundation of how we build these relationships. Our goal is to not only be a go-to Broker for our Customers but to have reliable go-to carriers in which to service our Customers.
The key to the Customer-Carrier balancing act is to build a strong team based on go-to relationships.
Open and honest communication

Service-oriented Carrier base

Reliable, go-to relationships
Want to build a go-to relationship with RCT?

Call Today!

330.441.7310

email: rates@rctlogistics.com